Description
Solid performance
Not into the hassle of wiring up multiple amplifiers? JBL's Club A5055 five-channel amplifier deliver 50 watts RMS to each of your front and rear speakers, plus up to 500 watts RMS to your sub, all from a chassis that's the size of a book. Or, you could use the amp in 3-channel mode to power a pair of high-performance speakers with 140 watts RMS each as well as 500 watts to the sub. The Class D design ensures the amp's high output won't put too much strain your vehicle's electrical system.
Compatible with almost any system
Speaker-level inputs and signal-sensing turn-on allow this amplifier to simply integrate into almost any system, even one using the factory radio. Separate high- and low-pass filters on the front and rear channels tune the sound to perfectly fit your speakers. The subwoofer channel features a low-pass filter, bass boost, and phase switch to tune the bass for your subwoofer. A wired remote lets you control the sub level from the front seat.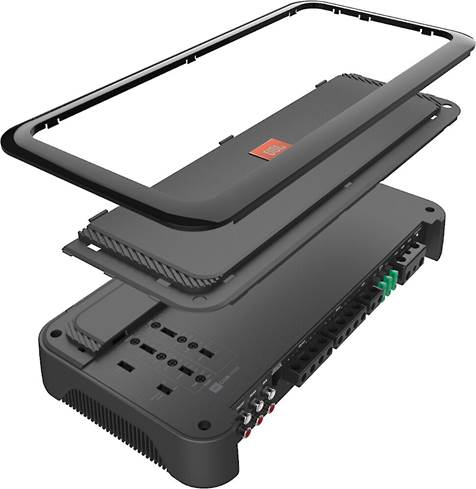 Here's where the controls are located.
Specifications:
5-channel car amplifier

50 watts RMS x 4 + 320 watts RMS x 1 at 4 ohms
65 watts RMS x 4 + 500 watts RMS x 1 at 2 ohms
140 watts RMS x 2 bridged at 4 ohms + 500 watts RMS x 1 at 2 ohms

front and rear channels:

Class AB amp technology
variable high- and low-pass filters (32-320 Hz, 12 dB/octave)

subwoofer channel:

Class D amp technology
variable low-pass filter (32-320 Hz, 12 dB/octave)
variable bass boost (0-12 dB at 45 Hz)
phase switch (0, 180 degrees)
wired remote bass control module included
More Info:
preamp and speaker-level inputs

bare wire to RCA adapters included for high-level inputs

wiring and hardware not included with amplifier

4-gauge power and ground leads recommended

fuse rating: 30A x 3
dimensions: 14-1/8″W x 2″H x 7″D