Alpine's ground-breaking Halo9 range is now extended with the release of the all-new iLX-F269E. The customisable user interface accompanied by the 9" WVGA touch-screen leads to an experience that is unmatched. Furthermore, 1-DIN and 2-DIN compatibility of the stunning hovering display enables fitment into a wide-range of vehicles without the need for custom installation.
Apple CarPlay and Android Auto allows for an extensive range of smartphone features such as getting directions, making calls, sending and receiving messages and listening to music⁠—all accessible on the high-quality display or via voice command. Expand your entertainment options with USB for superb video playback, high-res Flac music and Bluetooth for audio streaming.
For a detailed list of apps that have been CarPlay approved by Apple, head over to their website here: http://www.apple.com/au/ios/carplay/
*Spotify can be used through Android Auto, Apple CarPlay and Alpine Connect for Android.
Apple CarPlay
Apple CarPlay brings your apps to life all through the display. Listen to your favourite music apps such as Spotify or Tidal, plus make calls, get directions with maps, receive messages and see your calendar all while using the display or voice control.
Android Auto
The convenience of Android Auto lets you bring the ever-expanding apps into the dash of your car. From either the display or voice command you can make calls, send and receive messages, play music apps or set a destination via Google Maps or Waze.
Smartphone Navigation
Apple CarPlay and Android Auto allows the user to effortlessly command directions through voice control, allowing you to get from A to B with an accurate arrival time and turn-by-turn instructions. Plus, make a booking or call ahead with the location contact feature.
Sygic
The Sygic smartphone app is ready for use with Apple CarPlay bringing an in-car navigation experience to your dashboard. The Sygic app provides off-line maps with frequent updates and handy features such as traffic camera alerts, live traffic, lane guidance, actual speed and speed limits when using the paid service.
Waze
Available when using Apple CarPlay and Android Auto, the Waze app provides a unique navigation experience offering alternative routes to save you time. Waze also provides real time feeds reported by fellow Waze users to inform of upcoming traffic, road hazards, camera alerts and police stops.
Audio Streaming Apps
With Apple Music onboard for Apple CarPlay you have access to 60+ million ad-free songs at your fingertips which you can search genres, artists, podcasts and expertly crafted playlists. With the use of Apple CarPlay or Android Auto, Amazon Music and Google Play Music provides limitless entertainment to stream or download songs from a list of over 40 million ad-free tracks. Amazon Music, Google Play Music and Apple Music are paid subscriptions.
Spotify
Access the worlds music library with millions of tracks and episodes available on Spotify. When using Apple CarPlay or Android Auto with the Spotify app, you can play the latest songs from your favourite artists, charts and playlists. Plus, browse through the collections of friends, artists, celebrities and radio stations all from the comfort of the driver's seat. Furthermore, get unlimited skips, no ad interruptions and much more with the Spotify Premium paid subscription.
VOX
The VOX app for iPhone lets you play Hi-Res FLAC, ALAC, DSD, PCM music files, as well as sync music and playlists from Spotify, browse and play streams from SoundCloud, plus access radio stations from around the world. With Apple CarPlay and the VOX app enjoy Hi-Res music and audiophile sound as the artist intended. The VOX Premium paid subscription provides limitless space for your music and much more.
Tidal
While using Apple CarPlay and Android Auto, the Tidal app lets you stream your favourite songs in high quality audio. With over 60 million songs available to stream or download you have endless music options, plus you can stream guest playlists curated by the artists you love and listen to original playlists hand-picked by the Tidal experts. Tidal is a paid subscription.
Calendar
Apple CarPlay brings your iPhone's Calendar schedule to your dashboard so you can stay up-to-date with future events and important dates whilst on the road. What's more, if you have a particular event with a location in your calendar, you can simply select the event from the display and Apple CarPlay will launch Maps and provide directions to the location with voice guidance.
Notifications
Android Auto provides you with a simple yet convenient tab to display incoming notifications such as text messages and phone calls. Incoming text messages automatically notify you via the display or you can browse through recent messages. From the display you have the option to either preview the message text or play the message via text-to-speech.
Customise Your Screen
The iLX-F269E is equipped with a customisable user interface so you can setup your screens the way you like. Whether you love listening to the radio or prefer to stream your music through bluetooth, you can arrange the widgets in a way that best suits your needs. Create up to 3 customised home screens by choosing from 22 widgets including Clock, USB images, Apple CarPlay, Android Auto, "Now Playing", Sources, Camera, and Bluetooth functions—that can be easily dragged-and dropped onto the page.
What's more you can personalise the screen's wallpaper by using one of your own photos or choose from a number of Alpine's phenomenal pre-loaded patterns.
RCA Camera Input
Park with ease by connecting a reverse camera (sold separately) to the massive 9" display via the RCA input. This will allow a clear and wide-view of your surroundings such as obstacles and obstructions behind your vehicle.
Built-In Bluetooth
Built-in Bluetooth enables wireless connection of a mobile phone for the convenience and safety of hands free phone and audio streaming. Plus, you can use voice control through the built-in or wired microphone.
USB Video
Enjoy your favourite music videos or TV shows with spectacular USB Video Playback for supported files such as MP4, AVI, WMV, MPG, and MOV files (supports Video files up to 1080p)
USB Audio
Includes a 3-AMP USB port for super-fast charging and provides a multitude of source options, such as iPod and iPhone or memory sticks and other devices to playback specific audio file types FLAC, MP3, WMA, WAV, AAC.
AM/FM Radio
The iLX-F269E lets you navigate seamlessly between AM/FM channels with the convenience of selecting from 6 AM stations and up 12 FM stations you have preset to the main radio screen as your favourites.
Personalised Wallpaper and Colour Theme
You can change the theme colour and add your own personal wallpaper using a JPEG image or retain the default pattern with a selection of colours available in Amber, Blue, Green or Red. To change the wallpaper refer to Page 12 on the User Manual.
Adjustable Display Angle
The iLX-F269E provides flexibility when installing. The display can be angled from +45 degrees to -20 degrees to match a wide range of dashboards. The display gets locked in delivering no movement when using the unit.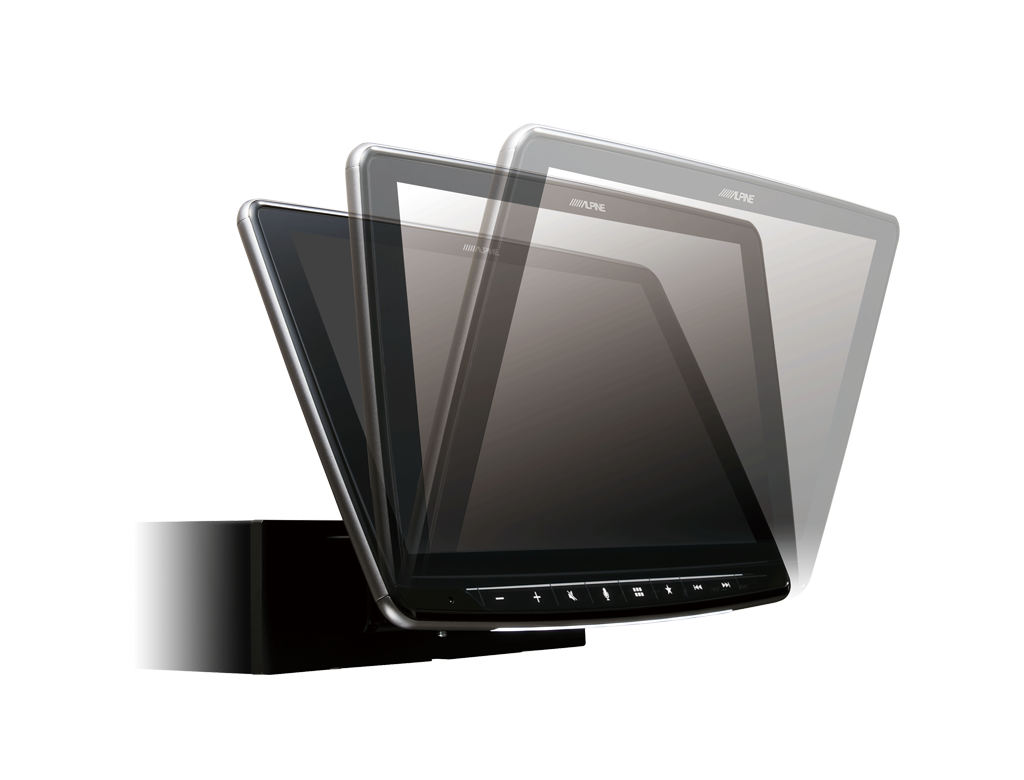 Adjustable Display Height
The display height can be adjusted +/- 3cm from the center position, allowing for standing and hanging display configurations. You can also adjust the distance of the display to your dash with a 20mm range.
Features
General
Display: 9 inch Capacitive WVGA Display
Apple CarPlay: Siri Voice Control, Apple Music, Spotify, i-Heart Radio, Apple Maps*, Phone Calls, i-Messages, Music (*Please check Apple Map availability at Apple official website.)
Android Auto: Voice command, Google Play Music, Spotify, Google Maps, Messages, Phone Call, Music
Power Output: 4 x 16 W RMS Amplifier
Tuner Preset: FM1 : 6 / FM2 : 6/ AM : 6
LED Backlighting System
Control Type: Touch, Drag, Flick
High Grade Audiophile Design
3PreOuts (4V) (Front/Rear/Sub)
Steering Wheel Remote Control Function
Camera Guide Line Adjustment
Rearview Camera Display Automatic Boot-up
Live Contrast Adjustment
Menu Language: English/Thai/Vietnamese/Chinese
Clock
Firmware Updatable
Power Antenna Lead
Power Requirement: 14.4 V. DC (11-16V allowable)
Pre Output Voltage (Before Clipping): 4 V / 10k ohms
Maximum Mounting Angle: 30°
BLUETOOTH®
Built-in BLUETOOTH® Module
HFP (Hands-Free Profile) Compatible
Streaming Music: A2DP (Advanced Audio Distribution Profile) Compatible
Streaming Music Control: AVRCP (Audio / Video Remote Control Profile) Ver.1.5 Compatible
Advanced BLUETOOTH® Technology
Connection: SSP (Simple Secure Pairing) Supported
Phone Book: Phone Book Synchronization
Multiple Phone Number Registration: 5 Phone Numbers can be stored for one name
Device Name Display
Auto Answer
Redial Function
Speech Volume Level Adjustment: Possible for Outgoing and Incoming Volume
DTMF (Touch-Tone) Function
Microphone Included
Made for iPod® / iPhone®
Available Selections: Playlist / Artist / Album /Song / Podcast / Genre / Composer / Audiobook
Alphabet Search
Artwork Display
Direct Up / Down: Playlist / Artist / Album / Genre / Composer
M.I.X. (Shuffle) Play: Song, Albums, All
Repeat
Battery Charging
Voice Dial/Siri
Connectivity
Works with Apple CarPlay (requires CarPlay enabled iPhone)
Works with Android Auto (Requires Android Auto enabled smartphone)
Navigation Function
Navigation capability with Apple CarPlay and Android Auto
USB Media Connection
Music Playback: FLAC/MP3/WMA/AAC/WAV compatible (Up to 48kHz/24 Bit)
Video Playback: MP4/AVI/WMV/MOV/MPG compatible
File / Folder Name Search
Folder Up / Down
M.I.X. Random Play
Repeat
Sound Tuning
Subwoofer Level Adjustment
Subwoofer Phase Select
Equalizer: Flat, Pop, Rock, News, Jazz, Electronic, Hip Hop, Easy Listening, Country, Classical
5-band Graphic EQ
Crossover Setting
Application Volume Level Setting
Easy, Step-by-Step Sound Customization
Media-Xpander
Subwoofer Level Control
Digital Time Correction (6 channels)
Specifications
Screen
Screen Size: 9 inch Capacitive WVGA
LCD Type: Transparent Type TN LCD
Operation System: TFT Active Matrix
Number of Picture Elements: 1,152,000 pixels (800 x 3 x 480)
Illumination System: White LED Backlighting
Effective Number of Picture Elements: 99% or more
USB
USB Requirements: USB 2.0
Max. Power Consumption: 1,500 mA (CDP Support)
USB Class: Mass Storage Class, Play From Device
File System: FAT 16/32
MP3 Decoding: MPEG-1/2 AUDIO Layer-3
WMA Decoding: Windows Media™ Audio
AAC Decoding: ACC-LC format ′′.m4a′′ file
FLAC Decoding
Number of Channels: 2-Channel (Stereo)
Frequency Response: 5 – 20k Hz ±1 dB *Frequency Response may differ depending on the encoder software/bit rate
Total Harmonic Distortion (at 1kHz): 0.008%
Dynamic Range(at 1kHz): 95 dB
Signal-to-Noise Ratio: 100 dB
Channel Separation (at 1kHz): 85 dB
BLUETOOTH®
BLUETOOTH® Version: Bluetooth V4.1
Output Power: +4 dBm Max. (Power class 2)
HFP: HFP (Hands Free Profile)
PBAP (Phone Book Access Profile)
A2DP: A2DP (Advanced Audio Distribution Profile)
AVRCP: AVRCP (Audio/Video Remote Control Profile)
Dimensions
Din Size: 1DIN chassis and 9" Capacitive Touch Screen
Chassis Size (W x H x D) mm: 178 x 50 x 164 mm